Publicerad 21 september 2013 kl.10:38 
Please visit and support the original source for this article.
http://online.osterbottenstidning.fi/Artikel/Visa/8453
Article written in Swedish.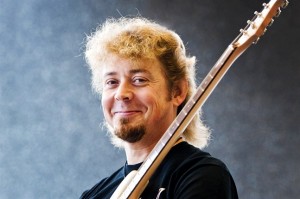 Henric Blomqvist. Foto: Eva-Stina Kjellman
Första skivan med egna låtar
Gitarristen Henric Blomqvist har tömt skrivbordslådan på låtar och ger ut första egna skivan tillsammans med vänner.
– Jag har skrivit låtar så länge som jag har spelat gitarr. Tanken på att ge ut en soloskiva har alltid funnits, men tekniken har gjort det möjligt att genomföra i dag, säger Henric Blomqvist.
Han är gitarrist i tribute-bandet Solid Faces och har ett förflutet i bland annat Tinderbox och Pete Newland Wildbrain. Första bandet hette Metal Force, det var på högstadiet och då hade Henric redan spelat klassisk gitarr i Musikinstitutet i många år.
– På nittiotalet hade jag en spelpaus på cirka tio år. Dels blev vi utan spelkämppä då hamnkontoret revs, dels byggde jag hus och arbetade och det fanns helt enkelt inte tid. 2006 startade vi Solid Faces och det blev en nytändning.
Under åren med tribute-bandet har Henric Blomqvist lärt känna många musiker. Då Doogie White, sista sångaren i Rainbow, var till Finland hade killarna i Solid Faces några spelningar med honom, bland annat på festivaler.
– Det var mäktigt att få sitta och prata med en person som sjungit med Richie Blackmore. Han sade bland annat att han uppskattade att arbeta med många olika slags musiker.
Det var det samtalet som Henric Blomqvist kom ihåg när han satt i sin hemmastudio och kände att det började vara dags att ge ut en egen skiva. Han mailade Doogie White och frågade om han var intresserad av att vara med på en låt eller två. Han skickade med några mp3-filer och hörde sedan inget från Doogie på ett bra tag.
– Men plötsligt fick jag mail av honom och han var mycket intresserad av att vara med. Jag blev riktigt nervös, nu var det plötsligt på allvar. Så jag började söka fler sångare som ville vara med på skivan.
Jukka Nurmi, Jari Tiura och Johan Mattjus, Solid Faces sångare, kom också med i projektet. Trummisen från Solid Faces likaså, Roger Snellman. På bas gästspelar Jonas Kuhlberg på alla låtarna.
– Nästan det viktigaste har varit att Sven Wannäs har mixat och mastrat hela skivan. Han spelar också med på Hammond och synt.
Det som alltså har pågått de senaste två åren är ett intensivt skickande av musikfiler kors och tvärs både inom Finland och utomlands. Doogie White har sjungit in sina låtar i en studio i London. De andra sångarna har varit på besök i Jakobstad varsitt veckoslut och spelat in sina låtar.
– Det har fungerat jättebra. Så här kunde man aldrig ha gjort förr, säger Henric.
Musiken är gitarrbaserad rak rock. Två av låtarna är ballader, två är instrumentala, som titelspåret "All of Your Illusions".
– Det ska höras att det är en gitarrist som gjort låtarna. Jag har en bred musiksmak, och som gitarrist är jag mer melodisk och spelar på känsla än snabb teknik. Men jag har ju studerat klassisk gitarr i sju år så tekniken sitter.
Henrics nioåriga son har precis inlett sina gitarrstudier i Musikinstitutet, och Henric lyfter gärna fram musikutbildningen i Jakobstad som en rikedom.
– En självlärd gitarrist kanske låter bra, men han vet kanske inte varför. När man kommer till en viss nivå kommer tekniken emot. Och man måste framför allt öva om man ska bli bra.
Inom två månader ska skivan släppas, lovar Henric, och det kommer också att bli aktuellt med en skivsläppskonsert. Det är förstås en utmaning att hitta ett gemensamt datum med alla medverkande, men Henric hoppas framför allt att Doogie White kan medverka.
I november kommer Solid Faces att medverka i Monsters of Rock på Stadshotellet i Jakobstad. Bandet kommer också att spela tillsammans med tribute-bandet Angry Machines i Uleåborg i samband med Deep Purplekonserten i januari.
Text Lotta Lappinen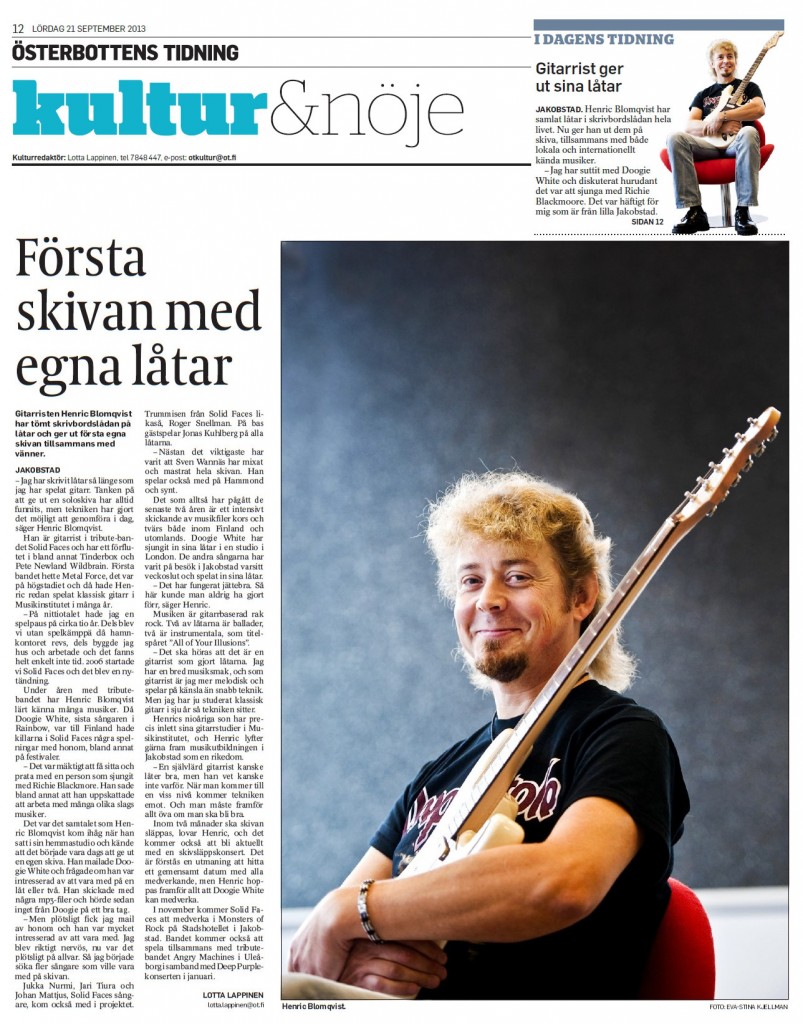 Above published article is only made for backup purpose. Please remember  to support the original source.