Solid Faces performs live @ PURPLE NIGHT 2013 – Who do We think We are (Showtime starts 22:00)
Virgin Oil Co., Helsinki
La 18.5.2013 21:00 – 04:00
Ikäraja: K18
Liput: ennakkoon 12 € / ovelta 14 €
http://www.tiketti.fi/Purple-Night-2013-Virgin-Oil-Co-Helsinki-lippuja/19742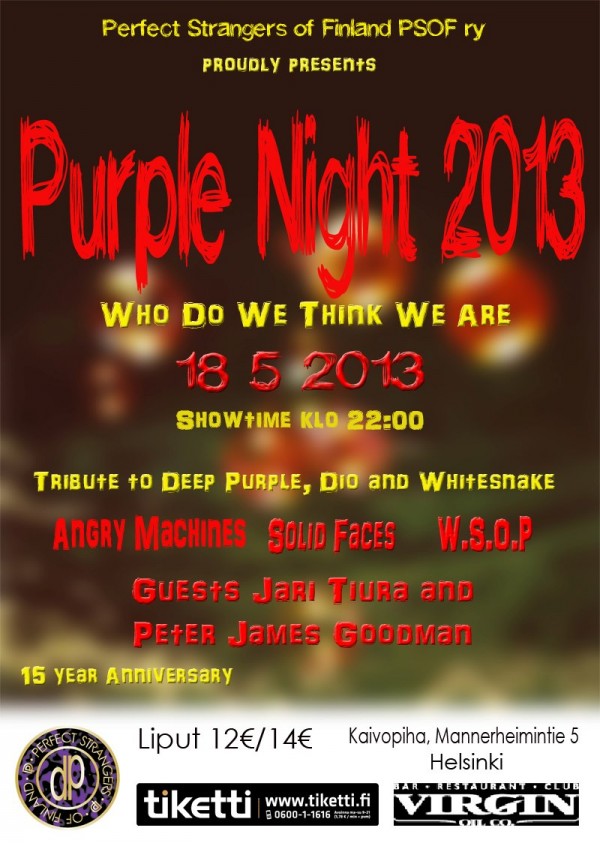 Perfect Strangers of Finland, PSOF ry. on perustettu Helsingissä 9.1.1998 ja on Deep Purplen ja heidän managementinsa Thames Talent Ltd:n hyväksymä virallinen Deep Purple-yhdistys Suomessa. Yhdistyksen tarkoituksena on edistää ja kehittää Deep Purple -yhtyeen ja muiden sukupuubändien musiikin harrastusta Suomessa.
Perfect Strangers of Finland PSOF ry juhlii 15-vuotista taivaltaan juhlakonsertin merkeissä ja jatkaa samalla perinteeksi muodostuneiden Purple Night – tapahtumien järjestämistä jo viidettä kertaa.
Juhlakonsertti on samalla kunnianosoitus Ronnie James Dion muistolle. R.I.P. rakas Dio (Ronald James Padavona;10.7.1942 – 16.5.2010). Siitä on myös kulunut 30 vuotta, kun Holy Diver-albumi julkaistiin.
Konsertin teemana on "Who Do We Think We Are", Deep Purplen 7.n studio albumin mukaisesti. Tämä albumi julkaistiin 40 vuotta sitten helmikuussa 1973 ja se oli Mark II:n viimeinen albumi, jossa Ian Gillan ja Roger Glover olivat mukana ennen kuin jättivät Deep Purplen. Samana vuonna kesäkuun 29.päivänä oli myös tämän kokoonpanon viimeinen keikka Japanin Osakassa. Tämän jälkeen Deep Purplessa puhalsi uudet tuulet. Iloksemme Deep Purplen Mk II:n kokoonpano yhdistyi taas vuonna 1984, jolloin albumi Perfect Strangers ilmestyi. Albumin nimikappale toimi myös inspiraationlähteenä yhdistyksemme nimeä valittaessa.
Illan aikana kuullaan mm. myös biisejä "Who do We think We are" – albumista.
Dion muistoa kunnioittaa Angry Machines Oulusta, solistinaan Purple Night 2012-tapahtumasta tuttu Jukka Nummi.
Varsinaisesta Deep Purple-osiosta huolehtii Solid Faces Pietarsaaresta. Osa Solid Facesin muusikoista ovat soittaneet mm. Doogie Whiten kiertuebändissä Suomessa vuonna 2009.
Viimeisenä, muttei vähäisenä esiintyy Kouvolan suunnasta oleva White Shade of Purple W.S.O.P. , jossa solistina Voice of Finlandista tuttu, energiaa pursuvaa Tea Tähtinen. W.S.O.P:n esitys tulee olemaan Whitesnake-painotteinen, ja sen tarkoituksena on johdattaa ajatuksiamme seuraavaan sukupuun-keikkaan, eli Whitesnake 7.6.2013 Espoon Kivenlahdessa.
Kaikki edellä mainitut bändit ovat PSOF-jäsenten bändejä.
Illan vierailevina solisteina ovat Jari Tiura (mm. Former Michael Schenker Group, Stargazery) ja Peter James Goodman (mm. Conquest, Purple Society).
Showtime jo klo 22:00, joten tule mukaan heti alusta juhlimaan kanssamme!
"Who do We think We are – We are The Perfect Strangers of Finland – 15 Perfect Years of PSOF".
T E R V E T U L O A !
Kotisivut: http://www.psof.fi
Facebook: https://www.facebook.com/PSOFry
Facebook event: https://www.facebook.com/events/137029276474800/
Solid Faces: http://www.solid-faces.com
The Highway Star – The Original Deep Purple Web Pages:http://www.thehighwaystar.com/thsblog/2013/04/15/purple-night-2013/