Perjantaina 29.5.2015 Purple Night palaa legendaariselle Tavastialle, jolloin Perfect Strangers of Finland PSOF ry järjestää 7. Purple Night -tapahtuman. Tavastialla tapahtumaa vietettiin vuosina 2008, 2009 2011 ja 2012. Virgin Oil Co:ssa olimme vuodet 2013 ja 2014.
PSOF ry on perustettu vuonna 1998 edistämään ja kunnioittamaan Deep Purplen sukupuun musiikkia ja on heidän managementinsa Thames Talent Ltd:n hyväksymä virallinen Deep Purple-yhdistys Suomessa.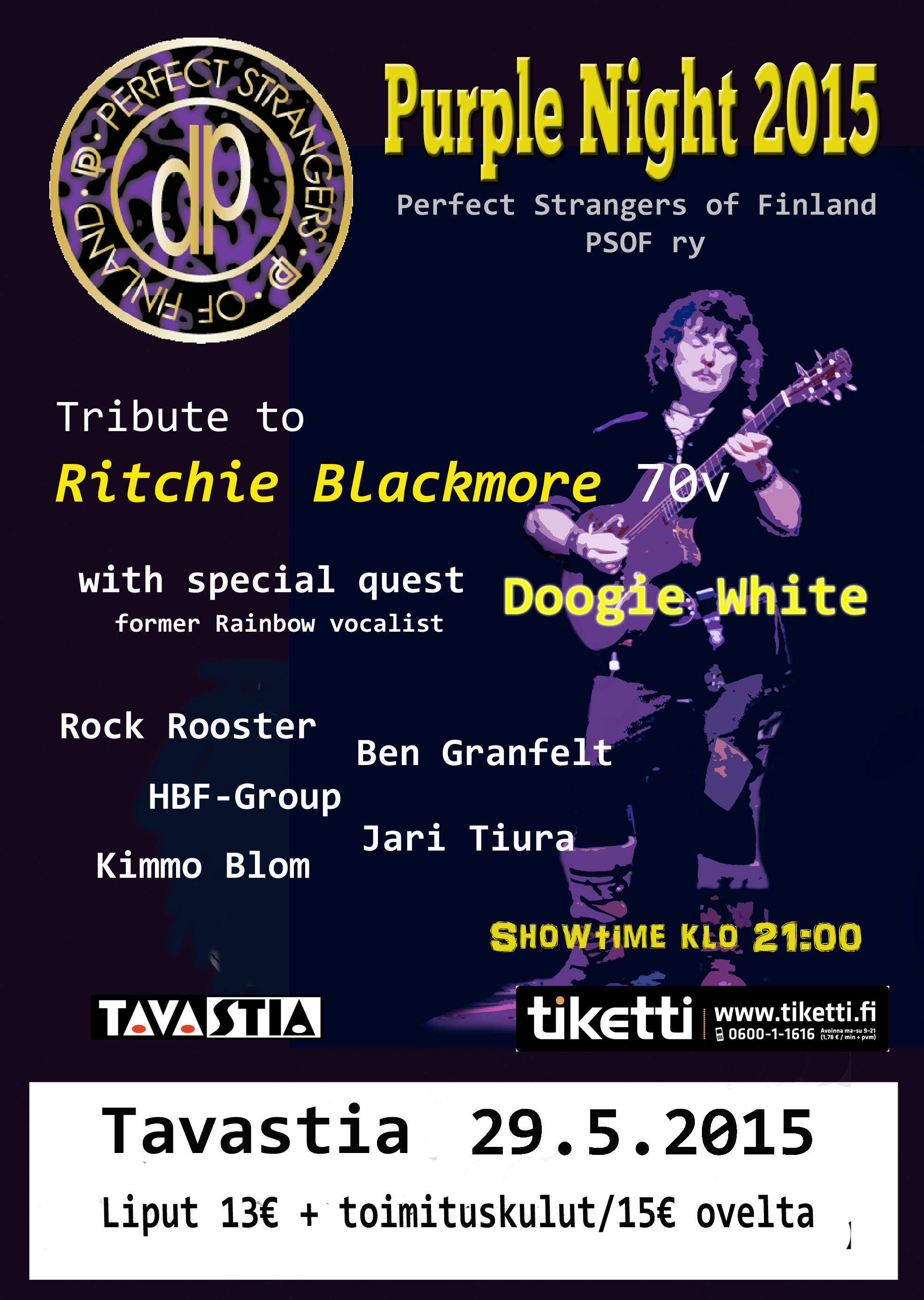 Yhdistyksellä on kaikkina näinä vuosina ollut punaisena lankana tarjota esiintymismahdollisuudet lukuisalle määrälle enemmän tai vähemmän ammatikseen soittaville muusikoille ja muusikonaluille.  Kaiken kaikkiaan vuosien varrella tapahtumissa on esiintynyt toista sataa artistia. Muutamia nimekkäämpiä mainitaksemme esimerkiksi Nikolo Kotzev, Tipe Johnson, Anssi Kela, Timo Kotipelto ja Jukka Lewis.  Oman yhdistyksen muusikoitakin tapahtumissamme on käytetty runsaasti. Kaikissa tapahtumissamme pääasia on kuitenkin ollut musiikki. Tapahtumissa on ollut erilaisia teemoja, kuten 10 Perfect Women, In Rock, Rainbow, Who Do We think We Are ja viimeisimpänä Old, New, Borrowed and Blue.
Tänä vuonna juhlistamme 7. Purple Nightilla Ritchie Blackmoren syntymäpäivää. Hän täyttää 70 vuotta 14.4.2015, joten siitä runsaan kuukauden päähän sijoittuva Purple Night on mukavasti lähellä juhlapäivää.
Ritchie Blackmoren ura on vertaansa vailla. Hän aloitti uransa jo koulupoikana 50-luvulla. 1960-luvun alku meni  kului erilaisissa kokoonpanoissa ja studiomuusikkona.  Vuosi 1968 on hänen urallaan tärkeä, sillä silloin hän perusti yhdessä Ian Paicen ja Jon Lordin kanssa Deep Purplen. Deep Purplen uraa voi pitää hänen merkittävämpänä, mutta Rainbow ja nykyisin Blackmore's Night ovat vain lisänneet hänen tunnettavuuttaan.
Illan luonteen mukaisesti, pääosassa ovat kitaristit ja nimenomaan Ritchie Blackmoren musiikki. Sitä tulevat esittämään vaihtuvissa kokoonpanoissa Rock Rooster ja Henric Blomqvistin johtama kokoonpano HBF-Group. Rock Rooster sai yhtyeenä vuonna 2011 "Vuoden Psofilainen -palkinnon". Yhtye on vuosien aikana tuonut pääosin Deep Purplen, Rainbown ja Whitesnaken musiikkia hienosti esille energisillä keikoillaan. Rock Roosterissa kokoonpano on:  More Karvonen kitara, Kari Martikainen basso, Hannu Auvinen rummut ja Markku Tolvanen kosketinsoittimet. Yhtyeen laulajana toimii Tommy O, joka on tuttu myös Purple Night 2012-tapahtumasta. HBF-Groupin kokoonpano on: Henric Blomqvist kitara, Jonas Kuhlberg basso, Janne Manninen rummut ja Sven Wannäs kosketinsoittimet. Henric ja Sven ovat tuttuja myös Purple Night – yhteydestä, sillä Solid Faces, jossa he soittavat oli esiintymässä vuoden 2013 Purple Nightissa.
Solisteja illan aikana ovat Doogie White (Ritchie Blackmore's Rainbow), Jari Tiura (MSG, Stargazery), Kimmo Blom     (Urban Tale, SMGO, WOF 2015, Angelo De Nile) ja Tommy O. Kitaristeista erikseen voi mainita Ben Granfeltin, joka on pitkän uran aikana vaikuttanut mm. Wishbone Ashissa, Leningrad Cowboysissa, Gringos Locosissa ja nykyisin Los Bastardos Finlandesesissa. Lisäksi hän on tehnyt omaa kitaravetoista musiikkia jo kohta kolmenkymmenen vuoden ajan.
Illan musiikillinen anti koostuu Deep Purplen ja Rainbow'n musiikista.  Jokainen aikakausi on tarkoitus ottaa huomioon, ja illan aikana kuullaan myös vähemmän tunnettuja "helmiä" klassikkohittien lisäksi. Tänä vuonna tulee myös kuluneeksi Ritchie Blackmore's Rainbown vuonna 1995 julkaistusta Strangers in Us All – levystä 20 vuotta, ja meillä on suuri kunnia saada juuri kyseisen levyn alkuperäinen laulaja Doogie White tapahtumamme kunniavieraaksi.
Tule mukaan juhlistamaan Ritchie Blackmoren 70-vuotisjuhlia erinomaisen musiikin ja hienojen esiintyjien kanssa.
Muutokset esiintyjälistaan ovat mahdollisia.
Liput maksavat 13€ ennakkoon + Tiketin toimituskulut.
Tavastialta ostettuna lippujen hinta on 15€.
Info
Purple Night 2015_tiedote
Tikets
http://www.tiketti.fi/Purple-Night-2015-Tavastia-klubi-Helsinki-lippuja/30777
Venue
http://www.tavastia.fi/tapahtuma/28632
PSOF sites
http://www.psof.fi
https://www.facebook.com/PSOFry