Henric Blomqvist & Friends – All of Your Illusions – Album release concerts
Henric is a guitarist and songwriter living in Jakobstad, Finland. Now releasing his first solo album containing own songs co-written with the participating singers. The style is guitar-based rock songs and ballads with influences from the Classic Hard Rock genre.
Participating artists and friends are none other than Doogie White (MSG, Rainbow, Malmsteen etc), Jari Tiura (Stargazery, MSG etc), Jukka Nummi (Angry Machines, Rainbow Shakers, Myon etc), Johan Mattjus (Solid Faces, Stormwing), Jonas Kuhlberg Bass (Mygrain), Sven Wannäs Hammond & keyboards (Solid Faces, Kaos Krew, Stormwing) and Roger Snellman Drums (Solid Faces, Tinderbox).
Henric organizes a series of concerts around ostrobothnia in connection with his album release,the majority of Henrics friends who participate on the album also participates at the concerts.
Live lineup featuring:
Henric Blomqvist – guitar
Jonas Kuhlberg – bass
Johan Mattjus – vocals
Jukka Nummi – vocals
Roger Snellman – drums
Kim Strandén – guitar
Jari Tiura – vocals
Sven Wannäs – hammond&keys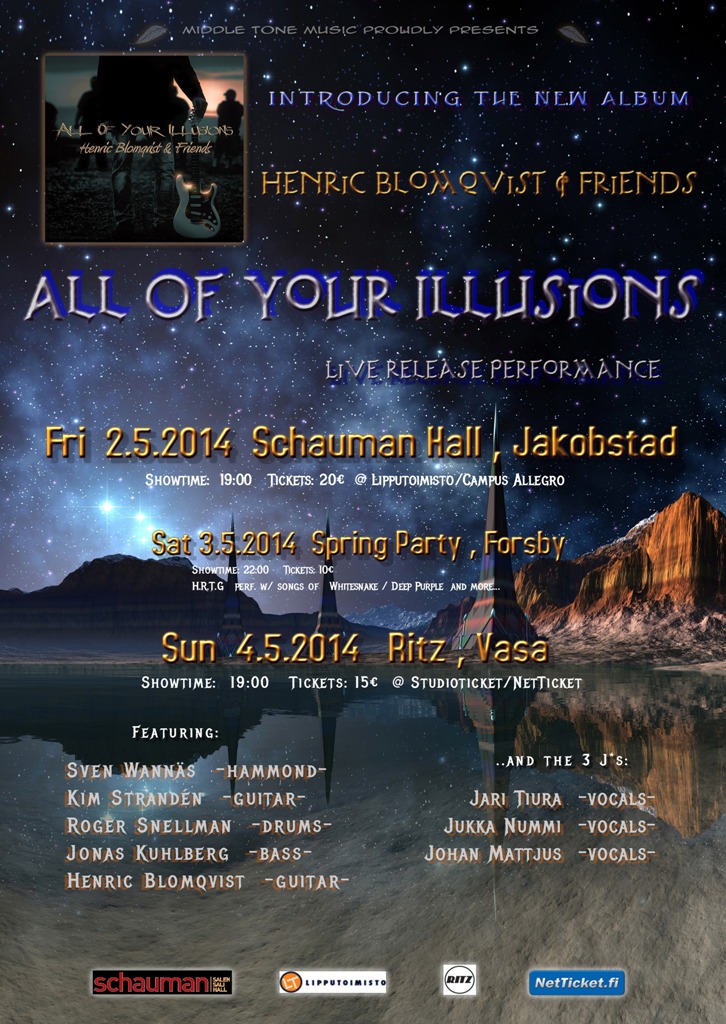 Tickets:
Schauman Hall
Lipputoimisto.fi
Ritz
Studioticket.fi
NetTicket.fi
Venue info:
Schauman Hall  (Jakobstad) 2014-05-02
http://www.schaumanhall.fi/program-och-biljetter/program
Ritz (Vasa) 2014-05-04
http://www.kulturskafferiet.com/event/henric-blomqvist-friends-illusions-album-release-concert/
Facebook event:
Schauman hall: https://www.facebook.com/events/561726810589340/
Ritz: https://www.facebook.com/events/678603218866883/
More info at: www.henricblomqvist.com