Kaos Krew – Planet Madness video review in Österbottens Tidning, Online November 18 and in paper November 19, 2013.
Please visit and support the original source for this article.
http://online.osterbottenstidning.fi/Artikel/Visa/12923
Article written in Swedish.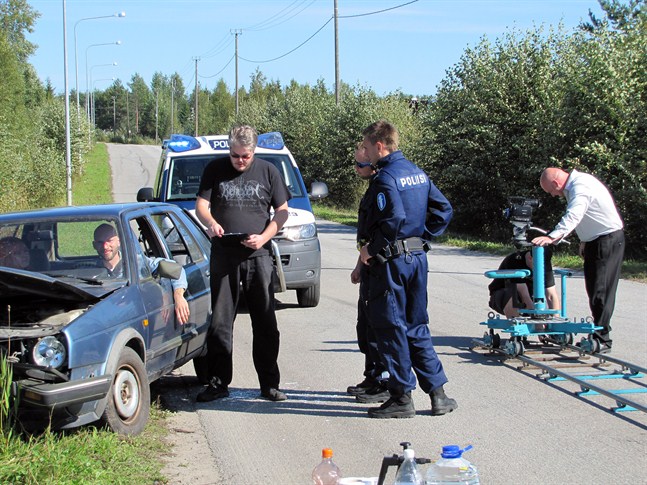 Regissören Mattias Holmberg instruerar skådespelarna på inspelningsplatsen i Jakobstad i somras. Foto: Kaos Krew
Välgjord hårdrockvideo med samhällskritiskt budskap
Den girige och maktgalna vd:n står framför sin ledningsgrupp och domderar.
Fattigdom är lönsamt, ingen skam i rikedom, korruption styr världen, är hans budskap.
Det här är inledningsscenen i Jakobstadsbandet Kaos Krews första video från senaste skivan "Corruption rules this world". Låten är den starka och tunga "Planet Madness", med uttalat samhällskritiskt budskap.
Videon premiärvisades i Optimas auditorium i lördags.
Det som sedan händer i styrelserummet är en mycket välregisserad och perfekt klippt scen där en av de anställda får nog, ställer sig upp och går. Utanför på gatan möts han av exempel på den korrumperade världen, en misshandel som ingen ingriper i, en präst som köper sex, en utslagen tiggare blir rånad, poliser skriver ut böter i stället för att hjälpa blödande krockoffer.
Temat i låten innehåller mycket fler referenser till missförhållanden som tillåts styra samhället i dag, och när man gjort videon har man definitivt inte valt de som lättast låter sig genomföras.
Genomgående är bildspråket mycket effektivt utan att vara övertydligt. Klippen är tajta och snygga, det finns inga energilösa moment i videon. Speciellt gillar jag klippen med bruten kronologi, de används sparsamt men ger bra tydlighet åt kontakten med detaljer i musiken.
Helt klart en mycket tilltalande helhet. Videon är gjord med klapp budget men det märks inte. Inte heller att de flesta medverkande, utom Bo Kronqvist, är att betrakta som amatörskådespelare. De har fått mycket bra regi, minsta ögonbrynshöjning sitter där den ska.
Den enda invändningen jag har är den lite väl somriga stämningen i en del bilder.
Under videoreleasen i lördags roade sångaren Massi Wickman publiken med att berätta om roliga händelser från videoinspelningen. Bland annat om hur han våndades när han skulle ringa kvinnliga kompisar till rollerna som prostituerade. Hur ställer man den frågan utan att det låter som en förolämpning?
Och skådespelerskan som ska tillbringa en hel dag nerdränkt i blod instängd i en bil, och hon visar sig ha blodfobi? Hur gör man då? Jo, man talar om för henne att det är kaffe, sirap och karamellfärg, och gömmer alla flaskor som det står "Nötblod" på etiketten.
Inga genvägar, allt för konsten.
Kaos Krew: Planet Madness. Regi Mattias Holmberg, foto Joakim Finholm. I rollerna bland andra: Massi Wickman, Uffe Skog, Göran Fellman, Thomas Öst, Zacharias Ahlvik, Sven Wannäs, Bo Kronqvist.
Text Lotta Lappinen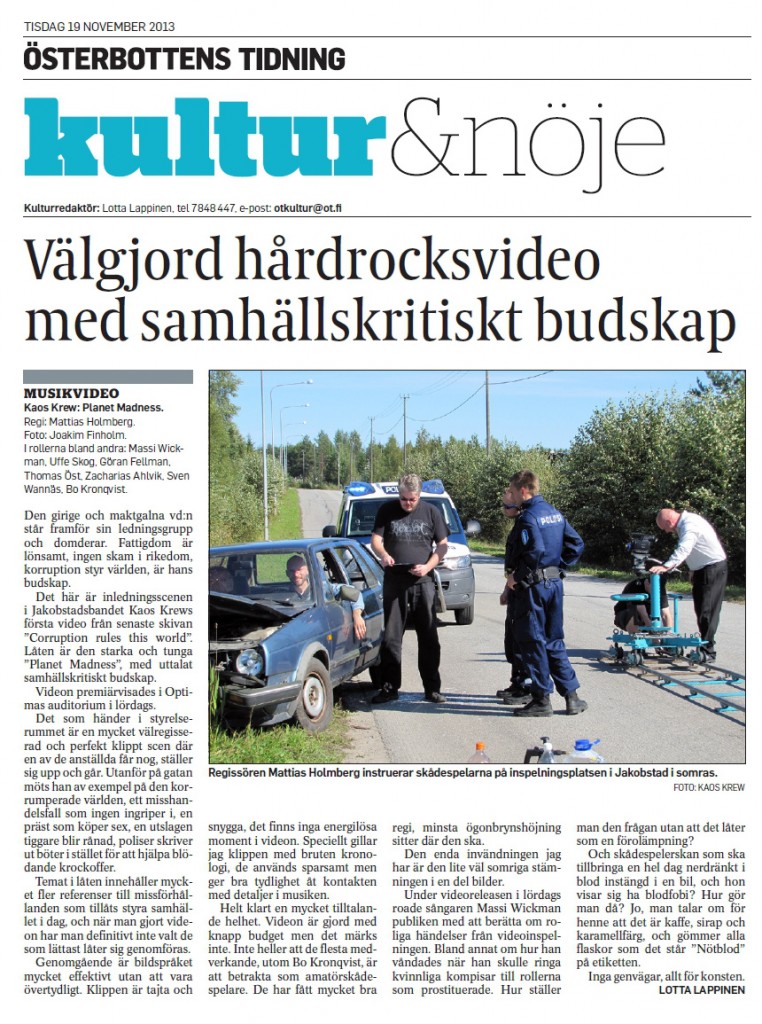 Above published article is only made for backup purpose. Please remember  to support the original source.