Kaos Krew – Corruption Rules This World album review in Pavillon 666 Le Webzine. October 15, 2013
Original source for this article.
http://www.pavillon666.fr/webzine/chroniques/chroniques-albums-cd/chroniques-albums-cd-detail.php?groupe=8492
Article written in French.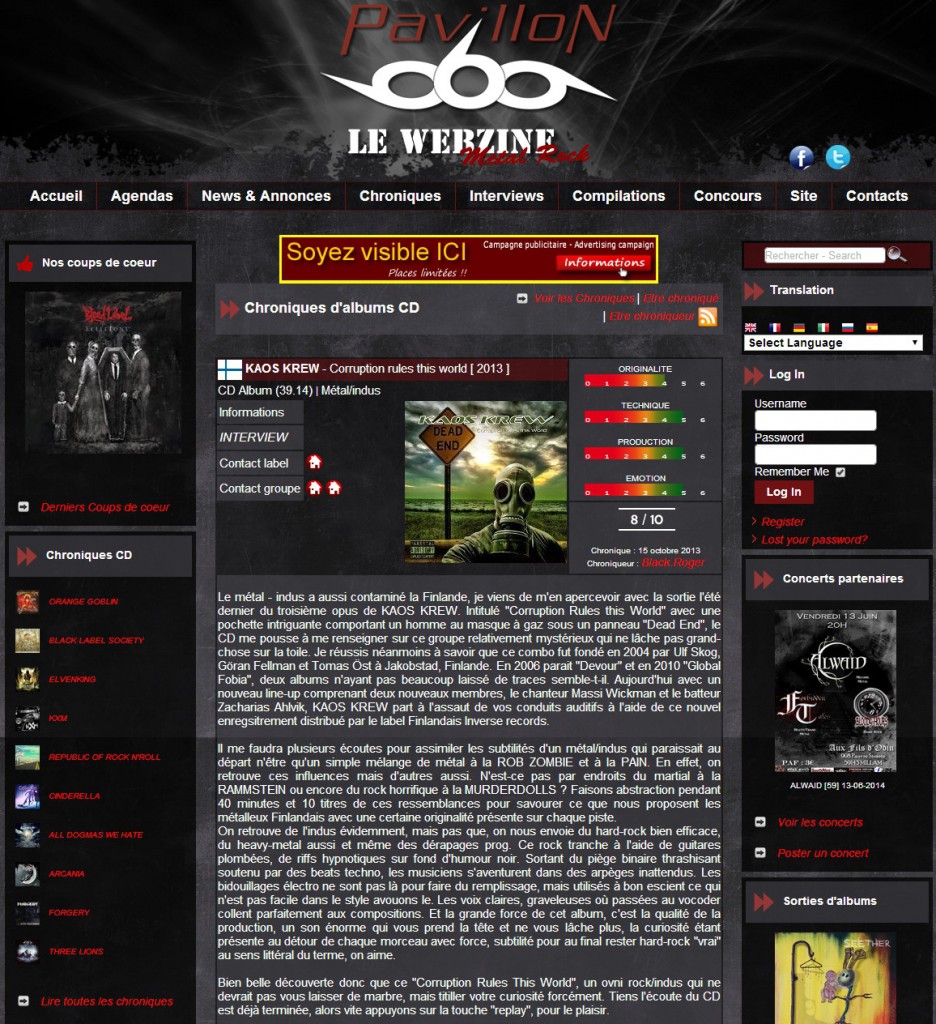 English translation by same webzine.
Metal – also contaminated industrial Finland, I just noticing with the release last summer of the third installment of KAOS KREW. Entitled "Corruption Rules this World" with an intriguing cover featuring a man in gas mask as a sign "Dead End", the CD drives me to inform me about this rather mysterious group that does not loose much on the web. Nevertheless I managed to learn that this combo was founded in 2004 by Ulf Skog, Göran Fellman and Tomas Öst Jakobstad, Finland. In 2006 appears "Devour" and 2010 "Global Fobia", two albums have not left much trace, it seems. Today, with a new line-up including two new members, singer and drummer Massi Wickman Ahlvik Zacharias, KAOS KREW part in the assault your ears with this new enregsitrement distributed by the Finnish record label Inverse . It will take me a few listens to absorb the intricacies of a metal / industrial, which seemed initially to be merely a mixture of metal ROB ZOMBIE and PAIN. Indeed, we find these influences, but others too. Is not the martial places to RAMMSTEIN or the horror rock to MURDERDOLLS? Let's ignore for 40 minutes and 10 tracks of these similarities to enjoy what we offer Finnish metalheads with some originality present on each track. were found in the industrial course, but not that you send us good effective hard-rock , as the heavy-metal and even prog excesses. This contrasts rock using leaded guitars, hypnotic riffs on background of black humor. Leaving the binary trap thrashisant supported by techno beats, musicians venture into unexpected arpeggios. Electro hacks are not there to make the filling, but used wisely it is not easy in style let's face it. Clear, gravelly voice that past vocoder stick perfectly to the compositions. And the great strength of this album is the production quality, a huge sound that takes your head and does not let go, curiosity is present around every piece with strength, subtlety to ultimately remain hard- rock "true" in the literal sense, we love. Though beautiful discovery so that "Corruption Rules This World," a rock / industrial UFO that should not leave you cold, but necessarily tickle your curiosity. Like listening to the CD is already completed, then quickly rely on the "replay" button for fun.
Above published article is only made for backup purpose. Please remember  to support the original source.